California Daily 4 Results, Intelligent Picks, Lotto Wheels
Updated: Wednesday, December 31st, 1969 07:00 PM
California Daily 4 | CA Daily 4 Results | Calottery Daily 4
#
Draw Date
Winning Numbers
Fri Jul 20, 2018
Thu Jul 19, 2018
Wed Jul 18, 2018
Tue Jul 17, 2018
Mon Jul 16, 2018
Sun Jul 15, 2018
Sat Jul 14, 2018
Fri Jul 13, 2018
Thu Jul 12, 2018
Wed Jul 11, 2018
Place mouse over or click to view


California(CA) Daily 4 Prizes and Odds

California Daily 4 News and Payout for Friday, July 20th, 2018
Updated: Friday, July 20, 2018 07:08 PM
The California Daily 4 game winning numbers for the Friday, July 20th, 2018 drawing were 8 9 3 5. The next Daily 4 drawing is going to be 6:30 PM, Saturday, July 21st, 2018, Pacific Time.
137 winning tickets were sold in the drawing of Friday, July 20th, 2018 for Daily 4 game. These winning tickets won a total of $41,529 in prizes.
Nobody matched Straight. In the past 12 months, winning tickets matched Straight in California Daily 4 drawing, won at least $1,101 to max $22,263. The average prize payout of this prize tier was $5,818.
28 winners matched Box and won $386 each. In the past year, tickets of this prize level in the drawing of California Daily 4, won from $78 to $5,343, with an average of $400 payout.
2 ticket(s) matched Straight and Box and won $5,035 each. In the past 1 year, winning tickets matched Straight and Box in California Daily 4 drawing, won from $595 to $13,802, with an average of $3,111 payout.
107 ticket(s) matched Box Only and won $193 each. In the past 1 year, tickets matched Box Only in California Daily 4 drawing, won from $39 to $2,671, with an average of $200 prize payout.
Daily 4 game drawings occur 7 days a week around 6:30 pm PT. To play California Daily 4 game, go to a lottery retailer, use a California Daily 4 play slip. Select 4-digit numbers in each game panel you want to play. For every game panle, choose a bet type from one below:
Straight
Box
Straight/Box
Box Only
To understand the bet types, you can ask the store clerk for a California Daily 4 lottery brochure where complete instructions of wager types can be found. Use only black or blue pencil or pen to mark with heavy vertical marks. If you are not able to come up with any 4 numbers to bet, you can just mark the Quick Pick to have numbers picked for you randomly. After you are done, pass the completed play slip to the clerk for processing.
Click here for detailed information of California Daily 4 payout and news.
About California Daily 4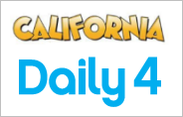 California Daily 4 is one of 6 popular state-only lottery games run by the California State Lottery. The California State Lottery (also known as California Lottery) is a relatively new once. It was started in 1984 and the first tickets were offered in 1985. However, it has acquired an immensely large customer base. Lotteries such as the California Daily 4 are greatly popular with players because they are quite easy to play. The California Daily 4 lottery started in 2008. Even though this particular lottery is not as large as some of the others, it doesn't fail to attract lots of customers.
Most people play the California Daily 4 lottery and others like it in order to make some money but they also contribute to improving the finances of the state. This is because the lottery organization keeps only about 6 cents out of every dollar spent by customers (this money goes towards maintaining overheads). The bulk of the earnings of the lottery goes back to teh people in the form of winnings, taxes and support to various educational initiatives in the state of California. Prize money is always substantial since around half of the ticket sales goes towards it.
Most people find the California Daily 4 lottery to be an extremely easy game to play. Draws for this lottery are held on a daily basis, immediately after the ticket sales are shut down for the day. This takes place at 6.30 pm (Pacific Time)
The draw for the California Daily 4 lottery is conducted by a specially designed Automated Draw Machine. This state of the art computer is tamper proof and does not work on a network. It is programmed to generate random numbers. This ensures that the daily draws are absolutely safe from interference. People who buy tickets to the California Daily 4 lottery can be sure that the draws are completely impartial.
How to Play California Daily 4?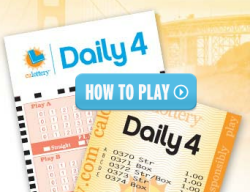 You can begin playing the California Daily 4 lottery by looking for a retailer who keeps playslips for this game. This will not be a difficult task since 20,000 and more retailers deal with this game. In any case, you could always take to the internet to locate a California Daily 4 retailer who is closest to your current location.
Now that you have a California Daily 4 lottery playslip in your hand, you need to choose any 4 numbers ranging from 0 to 9. Make sure that you mark one number per row. Use any numbers of your preference (your lucky numbers, a special person's birthday etc.) You can also choose the Quick Pick option in which case the numbers will be selected for you randomly (and very quickly)
Point to be noted: This lottery has a shared prize pool which means that numbers that are frequently played tend to win less prize money since the money has to be divided amongst more people.
You then need to choose your playstyle. There are 3 options available to you and they are:

Straight (Your selected numbers have to match the winning ones completely. Even the order of the numbers has to be the same)
Box (The numbers you choose should be the same as the winning ones. However, the order does not have to be the same)
Straight/Box (This is a combination of the first two playstyles. It helps you increase your chances of winning some money. If your selected numbers are a perfect match with the wining ones (in the right order) then you will win around half of the Straight prize money together with around half of the Box prize money. However, if your chosen numbers are the right ones but the order is not then you will win only 50 percent of the Box prize money.
Advance Play Option: This option is meant for people who want to use the same set of lucky numbers and playstyle over successive California Daily 4 draws. They only have to make a single purchase if they go for this option (but they will have to pay $1 for each draw they play) The California Daily 4 permits you to utilize the same set of lucky numbers and playstyle for up to 7 or 14 draws in succession. Each lottery playslip can be used for five plays using your favorite numbers. There is no limit on how many playslips you can use. You should be very careful when marking your chosen numbers on the California Daily 4 lottery playslip. You are allowed to use only blue or black ink when marking numbers on the California Daily 4 lottery playslip. You are not permitted to erase any markings on your playslip. If you do make a mistake marking numbers on the playslip then you should cancel the game by placing a mark in the VOID box.

When you have finished marking the California Daily 4 playslip, you have to return it to the retailer with the necessary money. Each play costs you $1 and you will get a ticket from the lottery retailer against it. Do not lose this ticket because it is your receipt. You are advised to sign behind it in order to prove ownership of it. The ticket contains information including which numbers you have played, the date of the California Daily 4 draw and the total amount of money you have paid. Be very sure to check all the details on the ticket very carefully.
It is very easy to find out whether you have won on the California Daily 4 lottery. The draws are televised and the winning numbers are published in various media outlets. You can also get the numbers on the internet. The California Daily 4 lottery retailer also has a scanner to check the barcode on your ticket.

Any money that you win on the California Daily 4 lottery should be claimed within a maximum of 180 days after the draw. If you win a jackpot then you can choose to be paid a lump sum or get the money in annuitized payments made over 26 years. If for some reason the money won on California Daily 4 is not claimed then the company will contribute it to the California education system.
California Daily 4

SUN

MON

TUE

WED

THU

FRI

SAT


Next Draw: Sat Jul 21, 2018