California Fantasy 5 Results, Intelligent Picks, Lotto Wheels
Updated: Wednesday, July 23rd, 2014 10:55 PM
California Fantasy 5 | CA Fantasy 5 Results | Calottery Fantasy 5
#
Draw Date
Winning Numbers
Wed Jul 23, 2014
Tue Jul 22, 2014
Mon Jul 21, 2014
Sun Jul 20, 2014
Sat Jul 19, 2014
Fri Jul 18, 2014
Thu Jul 17, 2014
Wed Jul 16, 2014
Tue Jul 15, 2014
Mon Jul 14, 2014
Place mouse over or click to view


California(CA) Fantasy 5 Prizes and Odds

California Fantasy 5 News and Payout for Tuesday, July 22nd, 2014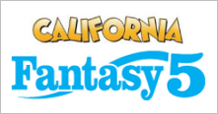 Updated: Tuesday, July 22, 2014 09:08 PM
One ticket purchased matched all 5 winning numbers in the Tuesday, July 22nd, 2014 drawing, and now players are checking their tickets to see who won the estimated $52,000 jackpot. The numbers from Tuesday, July 22nd, 2014 night's drawing were 03-04-15-24-29. The grand prize winner is highly suggested to sign the ticket, put it in a secure place and get in touch with CA lottery officials as soon as possible.
Together with the grand prize hit on Tuesday, more people walked away with huge pile of cash. There were 109 lucky players matched 4 out of the 5 white ball winning numbers and won the 2nd prize. The 109 lucky second prize winning ticket(s) would win $386 cash. In the past 12 months, the second prize paid between $208 and $689 with an average payout $426.
Other prizes won Tuesday evening included 3,468 tickets that matched three of the 5 winning numbers and won $15. The 3,468 lucky third prize winning ticket(s) which matched 3 of 5 numbers would win $15 cash. In the past year, the third prize paid between $11 and $20 with an average payout in the amount of $16.
With four different ways to win, there were 42,218 tickets sold across the state of California in the Tuesday, July 22nd, 2014 drawing.
The grand prize of next California Fantasy 5 drawing will be an estimated $57,000 Wednesday, July 23rd, 2014.
California Fantasy 5 drawings occur everyday at 6:30 p.m. Pacific Time. To play, pick 5 numbers from 1 to 39. The overall chances of winning of California Fantasy 5 is about 1 to 9. The chances of winning California Fantasy 5 jackpot are 1 in 575,757. The minimum California Fantasy 5 advertised grand prize is $50,000. If no ticket wins the top prize, the first prize pool money will be added to the next jackpot.
Click here for detailed information of California Fantasy 5 payout and news.
About California Fantasy 5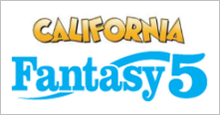 California Lottery was started in the year 1984, when the voters of California came together to legalise lottery. Ticket sale began in 1985.
California Lottery later introduced California Fantasy 5. The cost of each California Fantasy 5 game is $1. There is a California Fantasy 5 draw every day at 6.53 pm and the same is shown on TV at 6.59 pm. The 1st prize is $50,000 which can increase up till $500,000.
The prize is pari-mutuel which means that the prize money keeps increasing until a winner is identified. In case of more than one winner, the winners share the prize money equally.
Each game in a California Fantasy 5 consists of a bet on 5 numbers (as the name indicates). There would be a total of 39 balls numbered from 1 to 39. When rolled, 5 balls would be drawn. You win in case the numbers (all or 4 or 3 or even 2) drawn had been chosen by you.
In case all 5 numbers are matched, you would be the jackpot winner for that California Fantasy 5 draw. Each ticket can be used for 12 drawings.
The best part is that California Fantasy 5 is one of the few games that offer a relatively better chance of winning and taking home considerable amount of money, which is 1 in 575,757.
In addition to the regular ticket, there is also a $5 California Fantasy 5 ticket. On purchase of a $5 ticket, you would be provided a coupon (called second chance) which will entitle you to participate in a weekly cash draw with prize money from $1,000 to $10,000.
This coupon would have a unique 20 digit code.
In short something is better than nothing as far as California Fantasy 5 is concerned.
How to Play California Fantasy 5?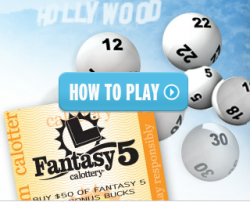 Visit your nearest California Fantasy 5 retailer.
Once you convey your wish to play the California Fantasy 5, the retailer would give you a play slip. Obtain a play slip from the retailer.
The play slip is a card that can be read optically.
It is compulsory that the play slips be marked manually. Only a ticket that is generated from a manually marked play slip is valid.
You now need to identify 5 numbers (considered lucky by you). The numbers need to be between 1 and 39. In case you are unable to choose, you may opt for the Quick Pick facility where a computer would choose the 5 numbers for you on a random basis. For this you need to mark 'QP' on the play slip.
Once you have decided on the numbers, you should mark them on the play slip.
Once you have marked your numbers, hand over the play slip with $1 to the California Fantasy 5 retailer.
He would then give you a ticket.
Each California Fantasy 5 play slip contains 5 plays. You need to buy more pay slips to play more games.
There is also a feature in called Advance Play which permits you to bet on the same numbers on successive draws.
While marking on the pay slip, see that you use only black ink or blue ink pens. Other colours are not valid. In case you made mistake, instead of erasing, use the VOID box to make your mark.
Once you have ensured that you have marked your California Fantasy 5 pay slip correctly, hand it over to the retailer along with $1.You would then be given a ticket. This ticket you receive also acts as a receipt.

Check the correctness of the ticket you have received for the date, the numbers you have placed bet on, draw details and the amount paid for the ticket.
Once you are convinced that the information available on the California Fantasy 5 ticket is correct, place your signature on the back side of the ticket.
It is to be noted that a California Fantasy 5 ticket that is once sold will not, under any circumstance, be cancelled.
The tickets are bar coded. You can check you winning status either by scanning your ticket at the retailer or by visiting the California Fantasy 5 website.
Multi-Draw
In case you wish to continue betting on the same 5 numbers for every game, this is possible. You can do so up to 14 successive games. This is called Multi-Draw.
In this concept you are not allowed to skip a game in between.
More About California Fantasy 5
In case no winner emerges from a California Fantasy 5 draw, the amount gets added to the amount of the next draw.
California Fantasy 5 being a game that has been around for a pretty long time, there has emerged a certain pattern in the results of the draws. This would definitely help you in choosing the 5 numbers to place your bet on.
Of course there are sources which you would find that would suggest the many ways to arrive at the 5 numbers like tips, software, applications.
As mentioned earlier, there is a bonus game or second chance as sometimes it is called, if you pay $5 for the California Fantasy 5 draw.
Once you pay this amount, you would get a coupon or voucher that would have a unique 20 digit code or number. You can buy up to 10 such vouchers.
With this voucher you can participate in another weekly lottery draw. The prize money for this draw is $10,000 for 3 winners and $1,000 for 12 winners, every week.
Eligibility
The players should have attained the age of 18, minimum. Of course for the younger lot, there is no need to worry. You can collect prizes of tickets that were gifted to you.
Prizes
There are chances that there is more than one winner in a California Fantasy 5 draw. In such a case the prize is shared among the winners.
The prizes of California Fantasy 5 above $599 are taxable.
The largest prize money won so far in California Fantasy 5 is a whopping huge amount of money - $729,505 in 1992.
The overall chance of winning a game in California Fantasy 5 is 1 in 9.
Payment
In case of prizes, the same needs to be claimed within 180 days. If uncollected, the same would go to the state.
California Fantasy 5

SUN

MON

TUE

WED

THU

FRI

SAT


Next Draw: Thu Jul 24, 2014
Jackpot: Pending