2 lucky winners won $180,000 California Fantasy 5 jackpot in Wednesday night's drawing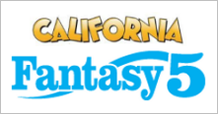 Updated: Wednesday, August 27, 2014 09:08 PM
2 lucky lottery players are holding a $180,000 winning jackpot ticket from the most recent CA Fantasy 5 drawing. The winning numbers from Wednesday, August 27th, 2014 night's drawing were 05 14 17 33 34. The grand prize winners are encouraged to sign the ticket, put it in a safe place and get in touch with California State lottery officials as soon as possible.
Along with the jackpot won on Wednesday, more people took home with huge pile of cash. There were 161 tickets matched 4 out of the five white ball winning numbers and won the 2nd prize. The 161 lucky winning ticket(s) would win $405 cash. In the past 12 months, the second prize paid between $208 and $689 with an average payout in the amount of $428.
Other prizes won Wednesday evening included 4,799 tickets that matched 3 of 5 winning numbers won $17. The 4,799 lucky winning ticket(s) would win $17 cash. In the past year, the third prize payout ranged from $11 to $20 with an average payout $16.
With 4 prize tiers, there were a total of 58,248 tickets sold across the state of California in the Wednesday, August 27th, 2014 drawing.
The top prize of next California Fantasy 5 drawing will be $53,000 Thursday, August 28th, 2014.
California Fantasy 5 drawings occur everyday at 6:30 PM Pacific Time. California Fantasy 5 game uses a 5/39 matrix from which winning numbers are chosen. The overall chances of winning of California Fantasy 5 is about 1 to 9. The odds of winning California Fantasy 5 grand prize are 1 in 575,757. The minimum California Fantasy 5 advertised grand prize is $50,000. If no one wins the grand prize, the top prize pool fund will be added to the next jackpot.
Mon Dec 04, 2023 California Fantasy 5 Payout
Numbers Matched
Prizes
# Winners
Matched 5 Of 5 Numbers
$69,000
0
Matched 4 Of 5 Numbers
$389
106
Matched 3 Of 5 Numbers
$14
3,527
Matched 2 Of 5 Numbers
Free Play
39,861
More Fantasy 5 Payouts
California Fantasy 5

SUN

MON

TUE

WED

THU

FRI

SAT


Next Draw: Tue Dec 5, 2023
$168,000
Change: +$99,000